As of June 6, 2020, for the entire summer period, Promenade Wellingtonwill be pedestrianized between LaSalle Boulevard and 5th Avenue*.
*Please note that the section between boul. LaSalle and Hickson will remain open to motorists until a favourable public health advisory regarding the opening of the terraces. The section between 4th Avenue and 5th Avenue will also be pedestrianized in the coming weeks.
The principle behind this decision is simple: The security of the shopping environment is paramount for the survival of our arteries, for your safety and that of the merchants, and to provide a safe and user-friendly space. 
Two major phases will mark the closure of the street. Phase 1, which consists of securing the street and the signage. Phase 2 will focus on landscaping, greening, beautification and furniture for the terraces.
PARKING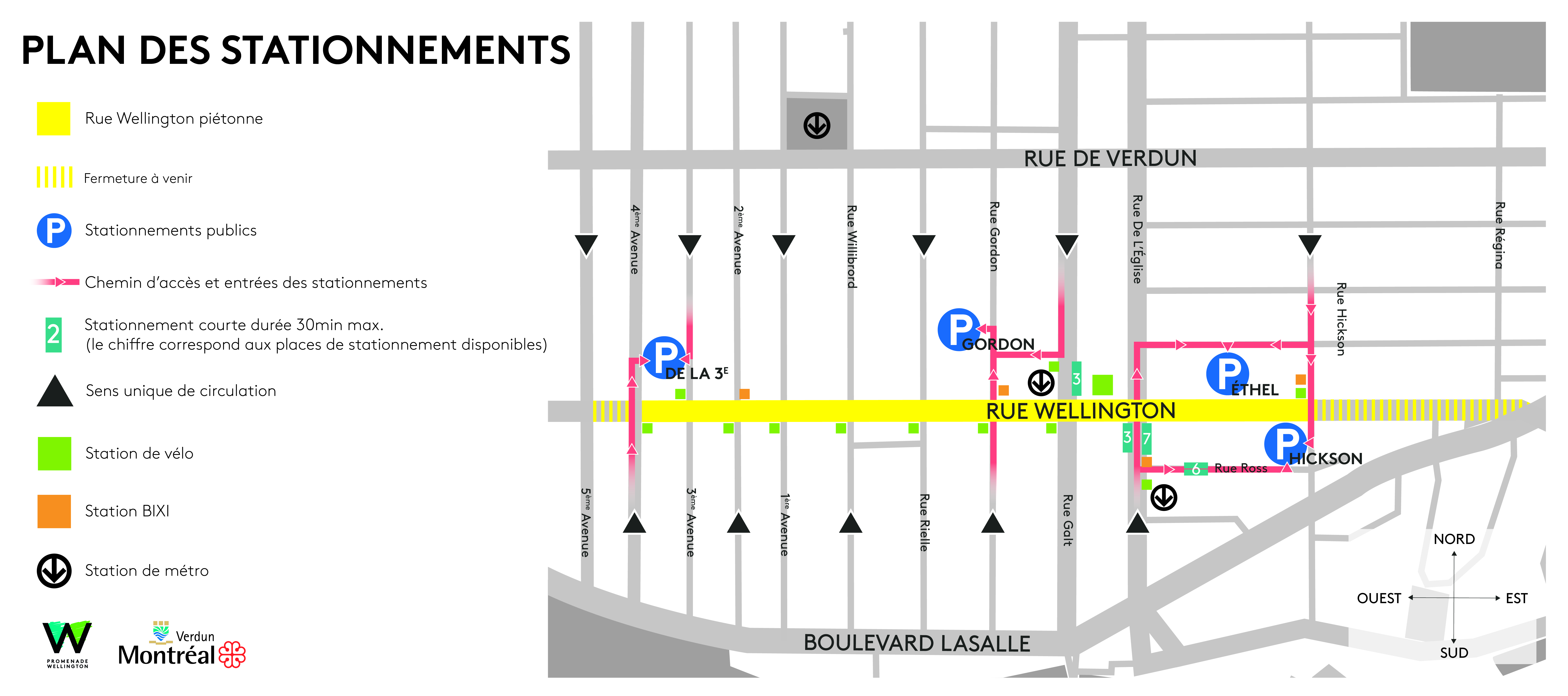 Important signage will be disposed on the cross streets to indicate the many parking spaces available on the periphery of the street (500 units): Éthel Parking (levels 6 and 7 are free), between de l'Église and Hickson Streets (access from Éthel Street and pedestrian exit on Wellington Street), Corner of 3rd Avenue and Wellington Street, Corner of Gordon and Wellington Streets, Corner of Hickson and Ross Streets. – 88 free parking spaces – 60 minutes – in the 4 municipal parking lots around Wellington.
In order to facilitate the loading of your purchases, short term parking areas will be reserved on certain cross streets from Monday to Sunday from 9:00 am to 9:00 pm. – 19 free parking spaces – 30 minutes – on-street, in the Galt and de l'Église sector.
Locate the signage campaign around the street, it will guide you to the public parking lot in your path.
The IGA benefits from a private parking lot to welcome its customers via Willibrord. Approximately 40 spaces are available.
Moving
Bicycles will not be allowed on the street during pedestrianisation. You will have to walk with your bikes if you want to ride on the street. Signs will be installed to indicate the available bike path zones and bike parking.
For people with reduced mobility, as well as for pedestrians, traffic will be on the street. On the Regina – Hickson and Hickson – De L'Église sections, ramps will be installed to facilitate access and social distancing. The entrance to the terraces will also be via the street to facilitate access.
Bus and metro detour
Please note that the 4 day circuits (21, 58, 61 and 71) and 1 night circuit (350) will be diverted to Lasalle Boulevard. You can go directly to Promenade Wellington via the De l'Église station (green line) exit Wellington.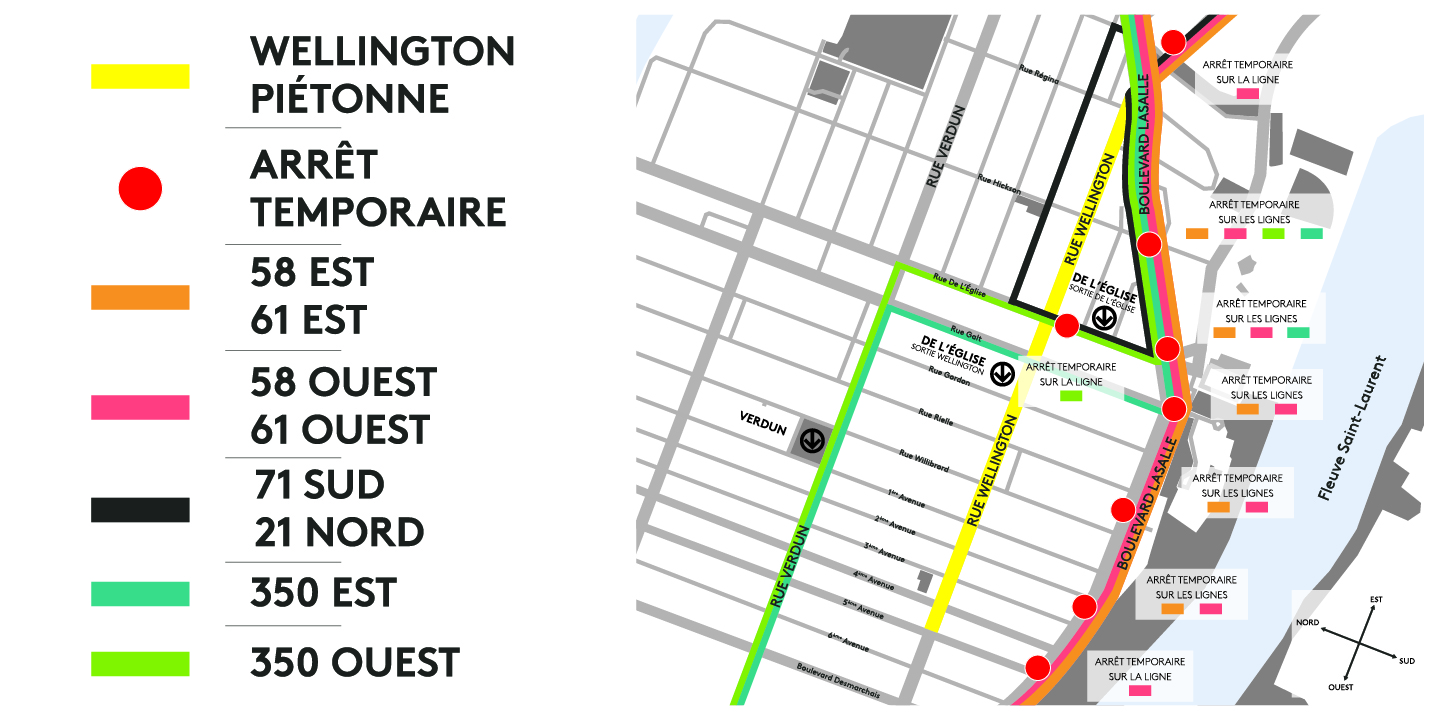 Terraces and events
When can the terraces reopen?
Following the Legault government's announcement on Monday, June 8, restaurants and terraces will be allowed to reopen as of June 22, in compliance with health regulations. More details to come!
Will there be any events on the Wellington this summer?
Due to the government's announced ban on gatherings and for security reasons, no events will be held on Wellington Drive for the summer of 2020. That said, we will try to organize some activities and entertainment.
Reminder of health and distancing measures
It is important to keep two meters away from shopkeepers and other citizens. Sanitary corridors in front of certain businesses are there to help you move around safely.
It is important to refer to the measures of each merchant: reduced capacity, wash your hands with the disinfectant product on the premises, avoid touching if you do not need it, respect the two-meter limit, etc.
It is important to cough into your elbow.
Wearing a mask is strongly recommended.
Wash your hands as soon as you return home.
If you have symptoms of cough or fever, have been in contact with someone who has COVID-19 or are returning from a trip, you are asked to stay home and take care of yourself!
Thank you for contributing to the success of this summer project by continuing to care about the importance of buying local as you know how to do so well.
We can't wait to see you on the Well! 💙