Get out your best sandals and come step foot on Promenade Wellington, which will be pedestrianized as of June 5, between rue Régina and 6th Avenue!
As in previous years, the pedestrianization will take place in two phases:
Closure of the street and securing of the perimeter by the Borough of Verdun from June 5;
Installation of landscaping and embellishment by SDC Wellington from June 12.
Pedestrianization in 2023 will be guided by the welcoming and dynamic atmosphere of the street, with comfortable, flower-filled and shaded areas, even more greenery and a cultural and artistic program to help you have a good time. It's all about creating a strong gathering place for the community in Verdun.
Promenade Wellington is where you'll feel on vacation all summer long!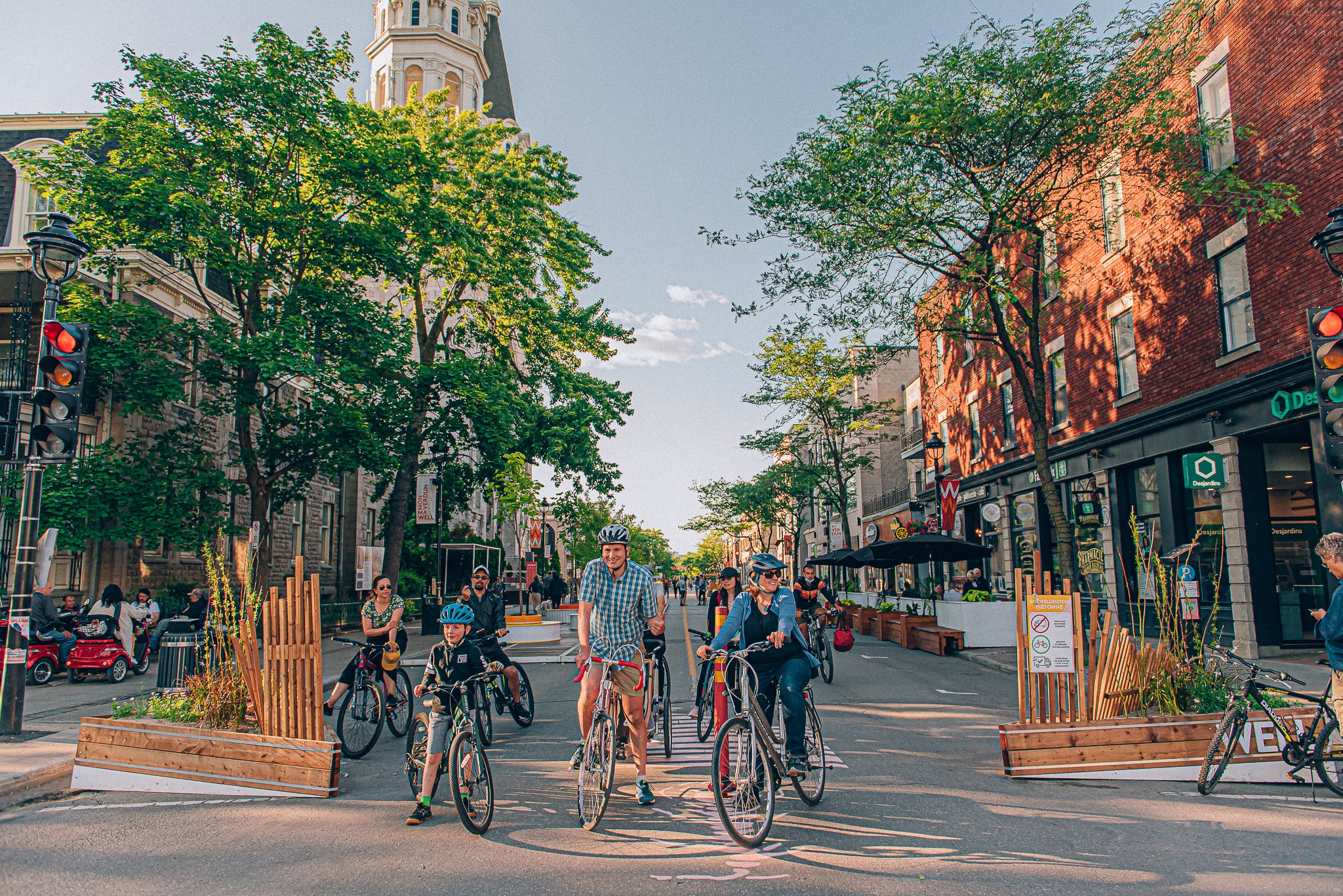 PEDESTRIAN / BICYCLE COHABITATION
Cyclists and their bikes must travel slowly on Wellington.
This project will be in force until the end of the pedestrianization period, EXCEPT where otherwise indicated. And for this pedestrian/bicycle project to be a success and to last all summer long, we need everyone to show good judgment and civic-mindedness.
Cyclists, here are the keys to good cohabitation on the Well:
Be as civilized as you are on the bike path near the riverbanks. Pedestrian/bike cohabitation already exists in Verdun!
Obviously, the pedestrian street belongs to pedestrians and is not a main bike road! Please take the waterfront or the bike path on Verdun Street if you have several street corners to make. This project is designed to make life easier for people who want to bike to the stores on the street.
We adjust our speed to the traffic on the street (just like on the highway!) – when the street is quiet, we ride at walking speed; when it's full or the happy hour is in full swing, we disembark and walk alongside our bikes.
Keep your distance (2 metres minimum) – Nobody likes to be tailgated, whether you're on foot or on a bike!
Watch out for our kids! – Children run and can move unexpectedly. So be careful.
We're sure that if everyone follows these simple rules, things will go smoothly!
Thank you for your cooperation!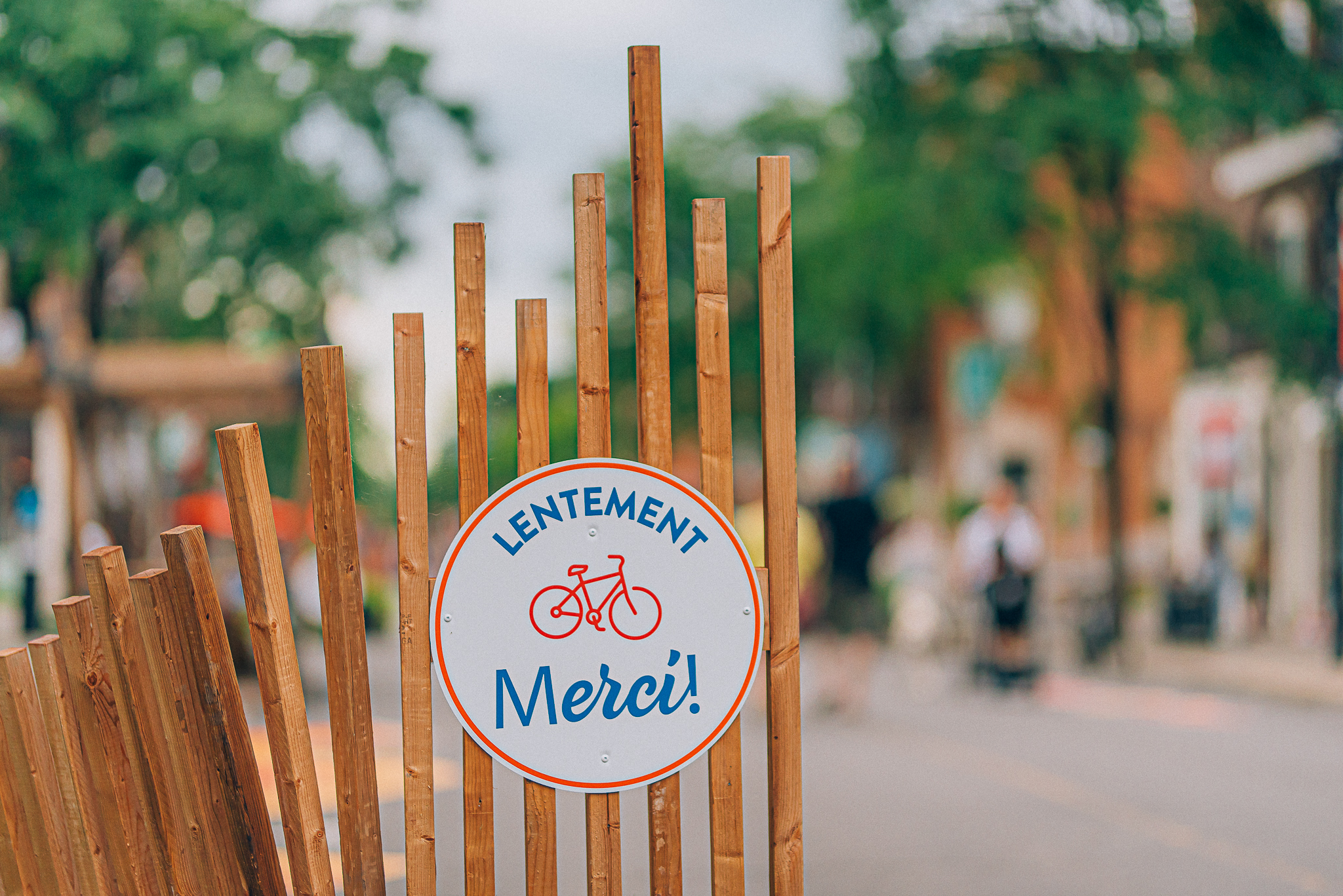 PARKING
Extensive signage will be installed on the transversal streets to indicate the many parking lots available on the periphery of the street (approx. 500 units):
Éthel parking garage, approx. 260 spaces available between rue de l'Église and rue Hickson (access via rue Ethel and pedestrian exit on rue Wellington);
At the corner of 3e avenue and Wellington Street (parking behind businesses on the odd side between 3e and 4e avenues);
On Gordon Street, corner of Wellington (parking behind businesses on odd side accessible via rue Gordon).
Look out for the signage campaign around the street, which will guide you to the public parking lot on your way.
The IGA grocery store also has a private parking lot for customers accessible via Willibrord. Approximately 40 spaces available.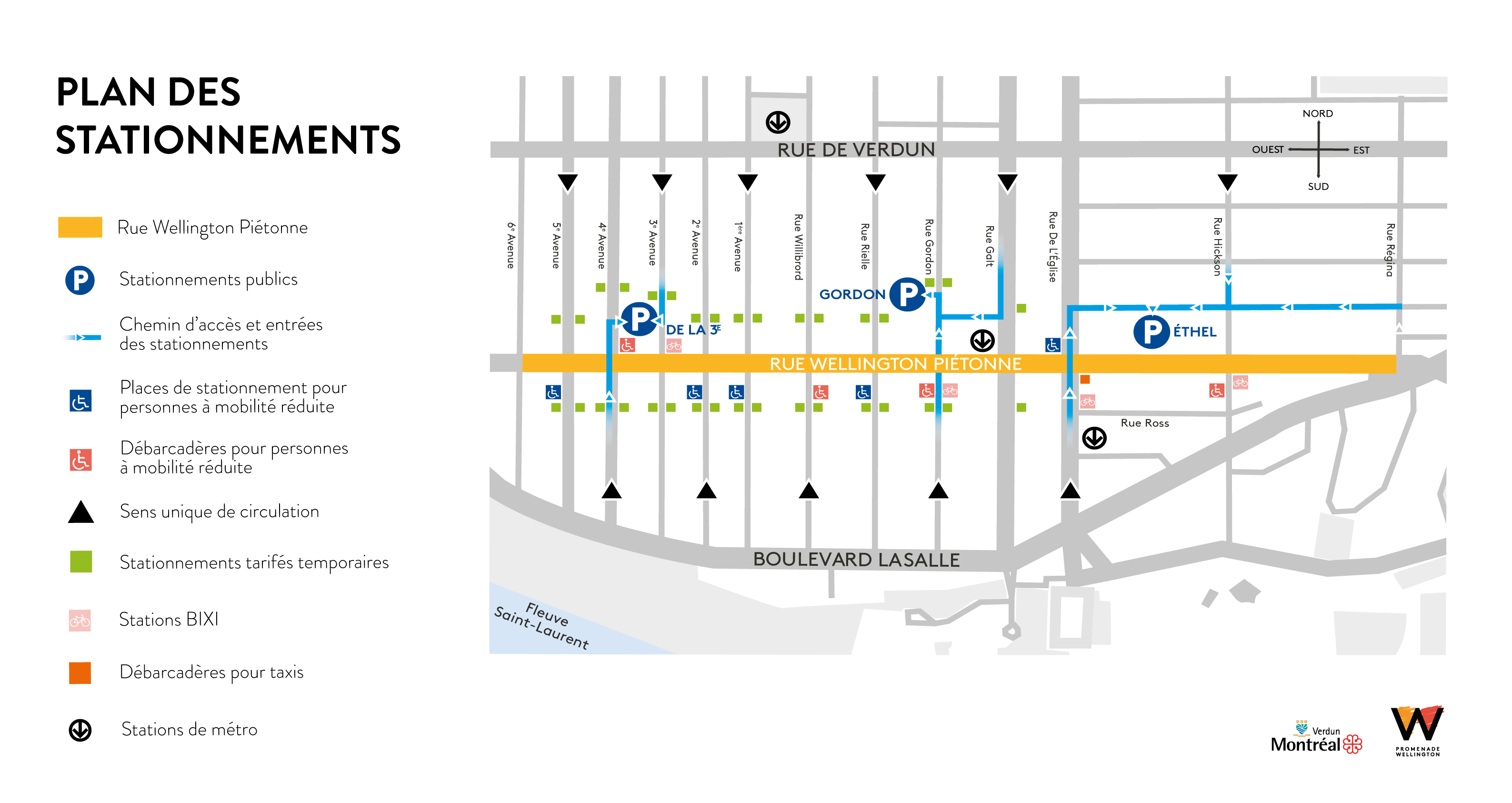 BUS DETOUR AND SUBWAY ACCESS
Please note that the 4 daytime routes (21, 58, 61 and 71) and the nighttime route (350) will be diverted onto LaSalle Boulevard.
You can get directly to Promenade Wellington via De l'Église station (green line), Wellington exit.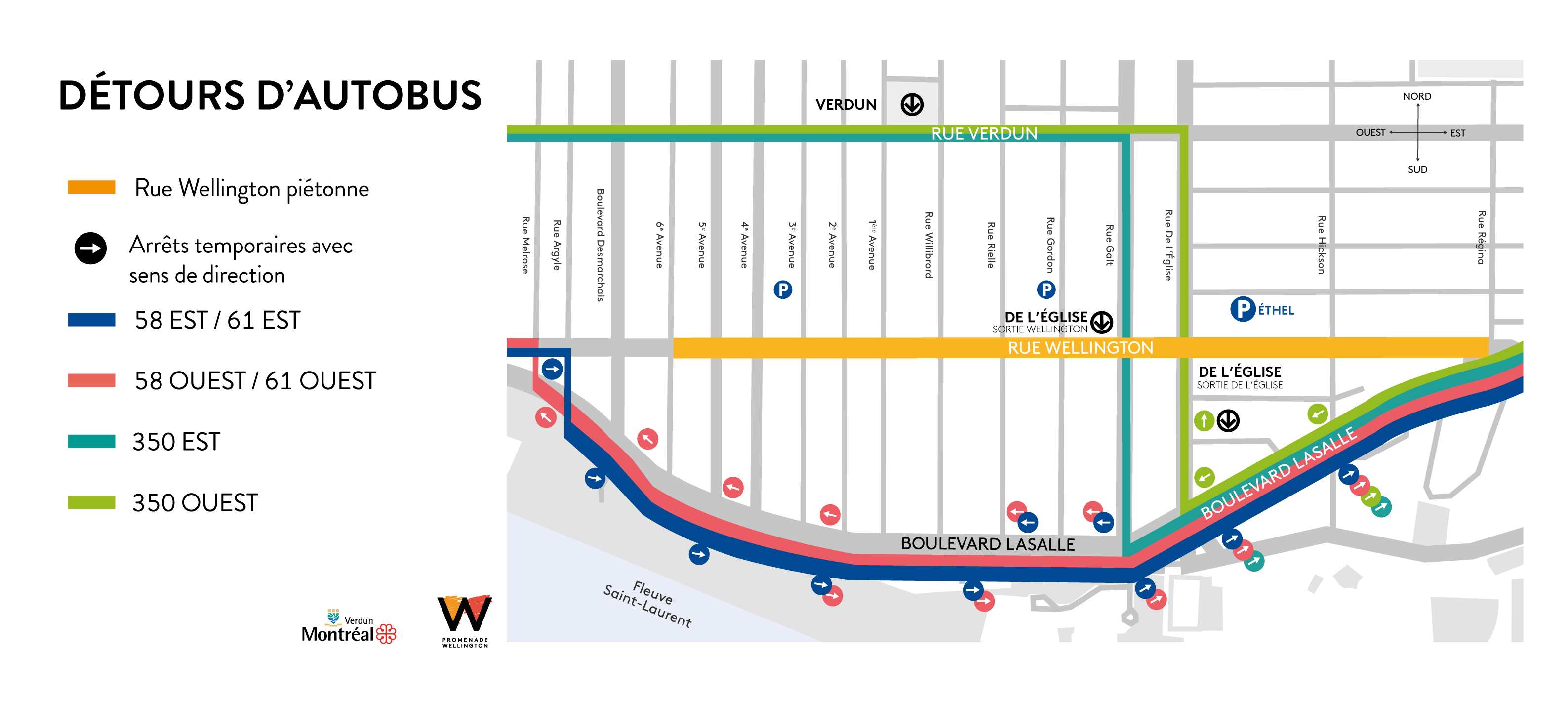 UNIVERSAL ACCESS
To better meet the needs of customers with reduced mobility, our team, supported by the advice of people concerned by these issues and the Borough of Verdun, has put in place several initiatives:
Landing areas: in addition to the existing parking facilities for people with reduced mobility, landing areas will be added along the pedestrian street (see parking map for locations);
Access ramps: Fifteen access ramps will be added: five on long stretches of Promenade Wellington and nine to improve access to each "îlot fraîcheur" (plan to come);
Relaxation areas: street furniture will be adapted for people with reduced mobility;
Toilets: one toilet will be accessible to people with reduced mobility.
*You can locate them on the layout plan using the international symbol of accessibility. Plan to come!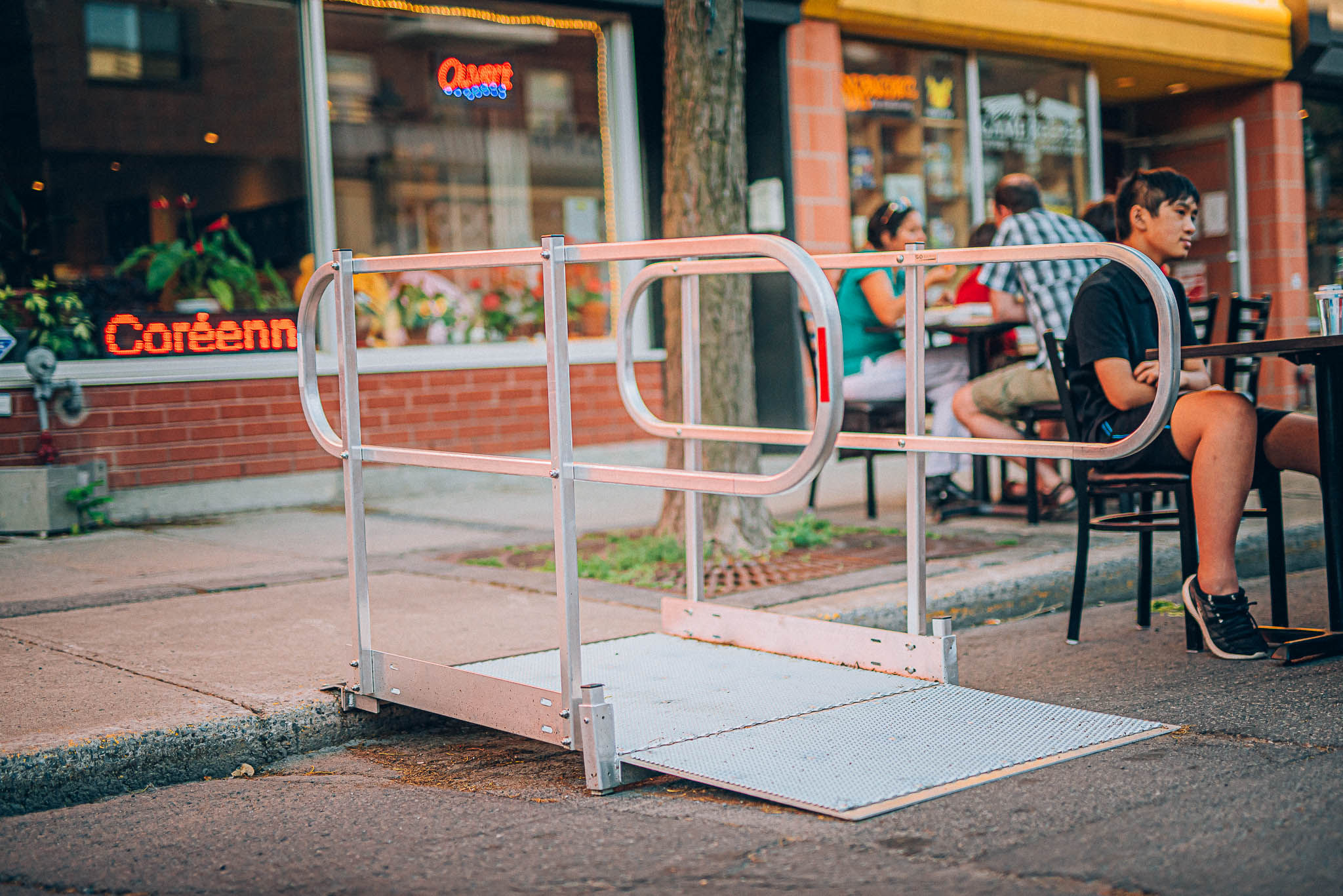 FREE TUK-TUK SERVICE
Offered in collaboration with our mobile partner Fizz, our free taxi-bike service will be back on June 22 with a fleet of brand-new electric bikes to help you get around this summer!
From June 22 to September 3, call one out on the street and take advantage of our free tuk-tuks. Whether it's to help you carry your groceries, get you to your happy hour, or simply enjoy a wind-in-your-hair ride, our drivers are waiting for you!
Dates of service: June 22 to September 3, 2023
Opening hours
Monday, Tuesday and Wednesday: no service
Thursday: 1 pm to 9 pm
Friday: 1 pm to 9 pm
Saturday: 11 am to 6 pm
Sunday: 11am to 6pm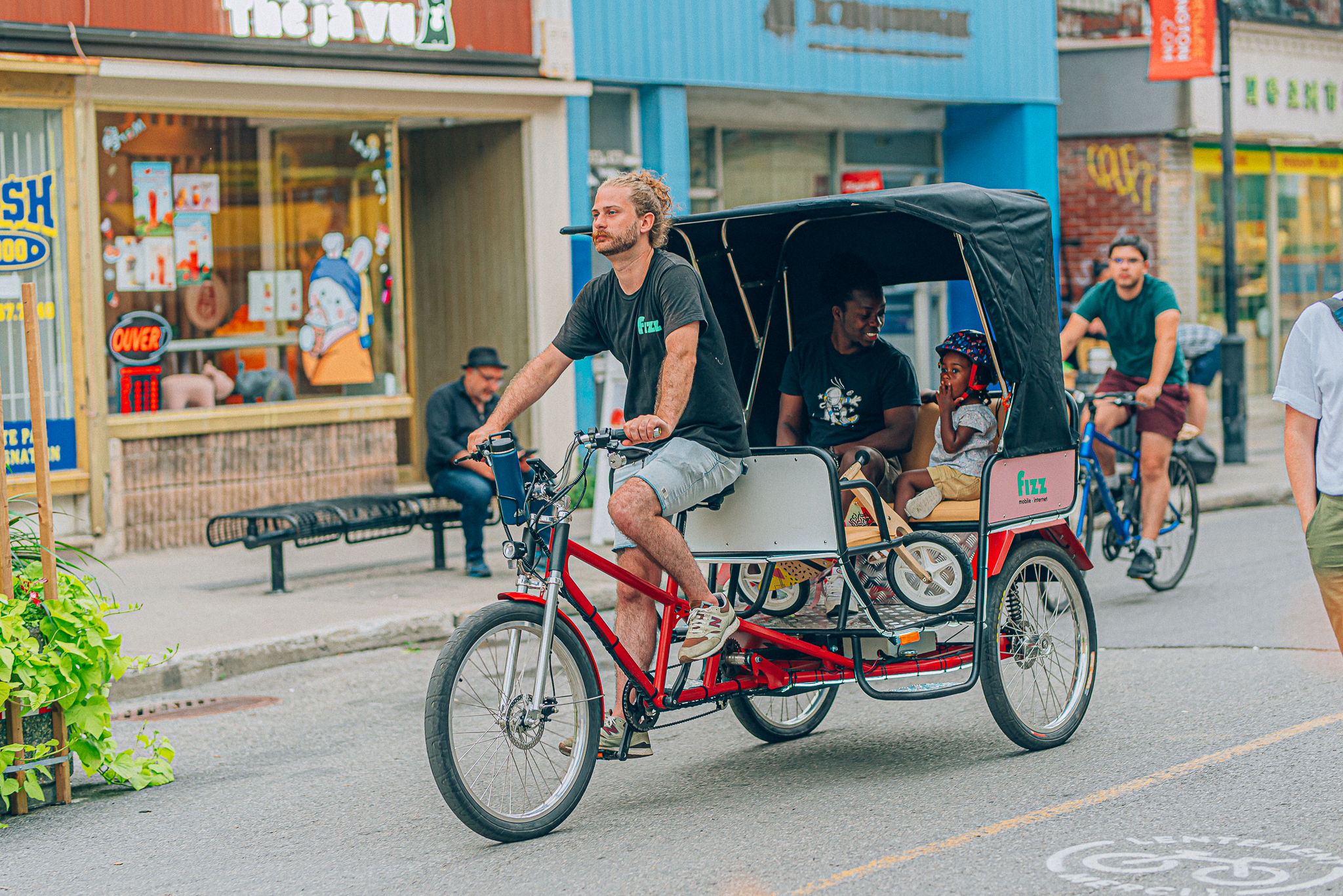 F.A.Q.
When will Promenade Wellington be pedestrianized?
Promenade Wellington will be entirely pedestrianized, between rue Régina and 6th Avenue, from June 5, 2023 and for the summer period.
What's planned for Promenade Wellington?
Terraces and relaxation areas will be set up at several spots along the street. They will provide a warm haven for visitors wishing to shop, work or relax during their visit to Wellington.
A number of swings and deckchairs will also be set up along the pedestrian street to relax and have a good time. The pétanque court will also be back, and to add to the fun, game-style frescoes will be painted on the ground!
Will there be washrooms available?
Yes, two toilets, including one for people with reduced mobility, will be installed at the corner of rue Wellington and rue De L'Église (plan to come).
In the event of a move or other exceptional circumstances (e.g. renovation work requiring the occupation of a public space, etc.), am I allowed to drive onto the street?
Yes, but you must apply to the borough for a permit to occupy the public domain at least 2 days before the desired date. You'll need to fill out the online form on the Ville de Montréal website to request a work permit.
If you are moving on the pedestrian street, you can write to the following address: verdun-ing@ville.montreal.qc.ca.
EVENTS
Are there any events planned for Wellington this summer?
You bet! A whole summer program will be in effect for the summer period!
Some of it will be offered by the Borough of Verdun and QUAI 5160, some by Wellington Street's member merchants and citizens, and another portion of events will be organized by the SDC Wellington to liven up the pedestrian street during the summer.
Is there a sidewalk sale planned for Wellington this summer?
Many of you have been looking forward to it! We're delighted to announce the return of the Promenade Wellington sidewalk sale.
The sidewalk sale will take place during the Festival Marionnettes Plein la rue, from August 25 to 27, 2023.
Note that for this edition, only Promenade Wellington member merchants will be able to participate in the sidewalk sale.
More details to come over the summer!
This summer in Verdun, life is Well!
Thanks to our partners