Discover the Well's best-kept secret: Galerie Jano Lapin, a space dedicated to contemporary art that also offers 14 artist studios and residencies. We were lucky enough to take an exclusive tour of the premises with founder Anne Jano, who has been at the helm of this unique Verdun project since 2020.
Anne Jano: gallery owner, curator, entrepreneur
The driving force behind the Jano Lapin gallery is Anne Jano, a young entrepreneur with no shortage of ambition or love for the arts. Although she studied to be an accountant, she has always been involved in the promotion of the arts, notably through her media company Jano Lapin and her involvement in the executive committee of the Cercles des Jeunes philanthropes du Musée des Beaux-arts de Montréal.
Galerie Jano Lapin was born of her deep interest in visual art and her undeniable desire to create a place that was accessible to artists and the public alike. "It's my way of keeping the balance: I can put to good use my technical education and my passion, which has always been towards the arts," she explains.
ON THE WELL
Although it was by chance that she set up her gallery on Promenade Wellington in Verdun, when she was looking for premises for her 2020 project, she considers herself lucky to have discovered the neighborhood in the process.
I was born in Quebec City and grew up in Beaconsfield. I didn't know Verdun very well before [opening the gallery]. It was quite a discovery for me," she recalls. "It really has its own identity. It's not Montreal, it's Verdun."
The 3500 sq. ft. space hosts creative rental studios, artistic residency programs and, of course, various vernissages and exhibitions in the spacious hall reserved for this purpose.
In addition to owning this space dedicated to the promotion of contemporary Quebec art, Anne is also a visual arts curator, where she will suggest artists' canvases to adorn clients' decors. "I can do it for a company that wants to put works in its space or office, or even houses and penthouses", she elaborates. Depending on the customer's request, Anne will draw on her repertoire of over a hundred Canadian artists to find a work that will achieve the desired effect.
Because art does good
The art gallery, comfortably nested in suite 200 at 3819 Wellington Street, enjoys a spacious, light-filled second floor. Little did we know that the small door between a grocery store and a bar opens onto a vast space teeming with creativity.
From the very first steps of the staircase, which leads to an open-plan space, Marilyne Bissonnette's small plaster rabbit sculptures on the walls set the tone for the place: a gallery showcasing local visual art in a friendly and feminine atmosphere.
When we visited, three artists were busy working on their creations, each in their own small studio space. "Here are the artists in residence. I have a partnership with Desjardins to rent studios free of charge to artists who need space for six months", she explains.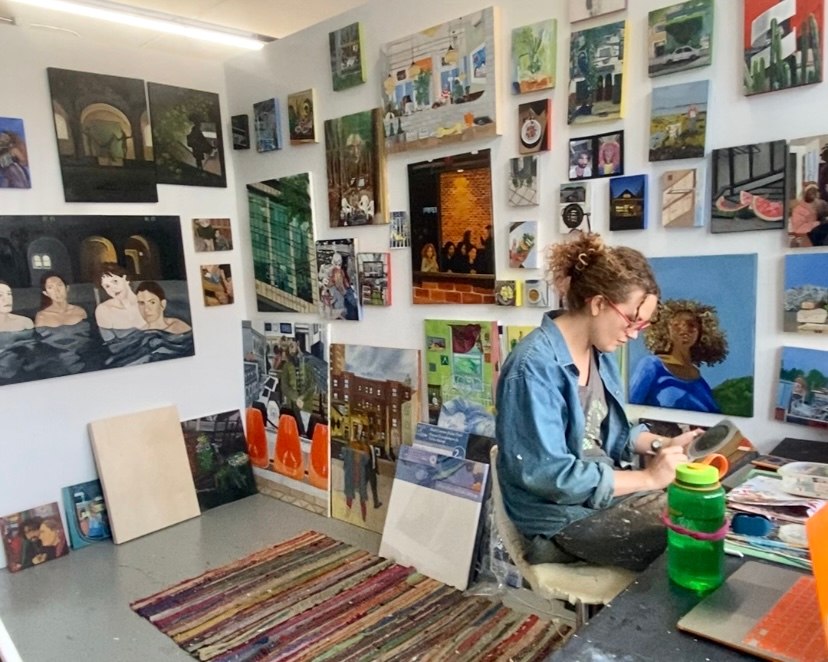 Delia Rose Landers
"For me, I find residencies nourishing. It's my way of giving back. I mentor the artists. I like to see their evolution, to see how their career can develop through a residency. The artists also make great connections. It's fun to see the impact it can have on their careers."
In addition to encouraging the next generation of artists, the 14 studios available for monthly rental give artists a space of their own in which to create freely.
"I try to create gatherings. I want to make the gallery a place where people can get together and talk… Because art does good", adds Anne Jano.
Alexandra Riesbri, Caroline Létourneau, Laïla Mestari and Delia Rose Landers, present during the visit, testified to this atmosphere through their visible ease and connection with the bubbly owner of the premises. With its smiles, encouragement, mutual support and trust, the Jano Lapin gallery is indeed a space that feels good.
A space to discover
The Jano Lapin gallery is open to the public during vernissage events and by appointment. Whether you're a collector, a buyer, or simply curious, Anne is happy to show everyone around.
Now that you're in the know about the Well's well-kept secret, check out the gallery's Facebook page or website for upcoming events!
Because we love an art gallery on the Well!