Experience the best Halloween on the Well! Trick-or-treating, costume parties, atmosphere and thrills await you starting Friday, October 27 until October 31.
With the many activities organized by merchants who have prepared very special evenings and events for the occasion, you'll be spoilt for choice if you want to experience a Well'oween worthy of its name. We present them to you in this article!
Friday, October 27
The Tropiques celebrate Halloween at Café Jardin
Halloween festivities on the Well kick off on Friday, October 27 at Café Jardin with a very special edition of the INNA Southwest Tropiques. On the menu: dinner starting at 7pm, a wild percussion show with candy distribution, followed by afrobeat, dancehall, zouk and hiphop DJs with vino until midnight. Fun guaranteed!
Costumed or not, if there's a place to get everyone's heart rate up and the heat on, it's Friday in the basement of Café Jardin!
When: Friday, October 27, 7pm to midnight
Where: Café Jardin | 4437, rue Wellington
Price: $5 (Free for under-18s)
Costumed Guinguette at Verdun Beach
Afterwards, head to the Bar Verdun Beach to dance the night away and have a chance to win a costume contest! Still on Friday night, come and show off your costume for a chance to win a mag of something exceptional while dancing to the DJ's frenzied beats.
What's more, the Verdun Beach gang can't wait to show you their costumes!
When: Friday Otcober 27, starting at 10 pm
Where: Verdun Beach | 4816 Wellington St.
Voir cette publication sur Instagram
Saturday, October 28
Saturday Tre Punti Halloween Special
Looking for a family activity? Studio Tre Punti invites young princes, princesses, wizards and other little creatures aged 4 to 9 to its very first Tre Punti Saturday of the year, with a special Halloween theme!
This artistic evening promises to be a memorable experience and an opportunity to have fun in a theatrical and bewitching evening!
Little monsters are expected at 5:30 p.m. for two hours of fun. A themed meal will also be served to mark this special evening. Parents can sit back and relax, the Studio will take care of everything!
When: Saturday, October 28, from 5:30 pm to 7:30 pm
Where: 5047 Wellington St.
Price: 35$, includes animation, meal and taxes. Click here for tickets!
You already have a Halloween party planned for Friday night?
Don't panic, there's plenty to choose from when it comes to feasting on the Well on Saturday night! Brasserie Benelux, Bar Social Verdun and Trèfle are offering three different themed evenings. It's up to you to choose which universe you'd like to immerse yourself in…
Halloween classics at Benelux
Benelux offers you a "good old-fashioned" Halloween evening on Saturday, October 28, rediscovering Halloween classics. Old horror movies and their iconic characters will be in the spotlight!
Got an old Scream costume lying around since 2004? Dust it off and party to the beat of the DJ at Benelux, which will be decked out for the occasion and showing old horror movies on screen.
When: Saturday, October 28, from 9 pm
Where: Benelux | 4026 Wellington St.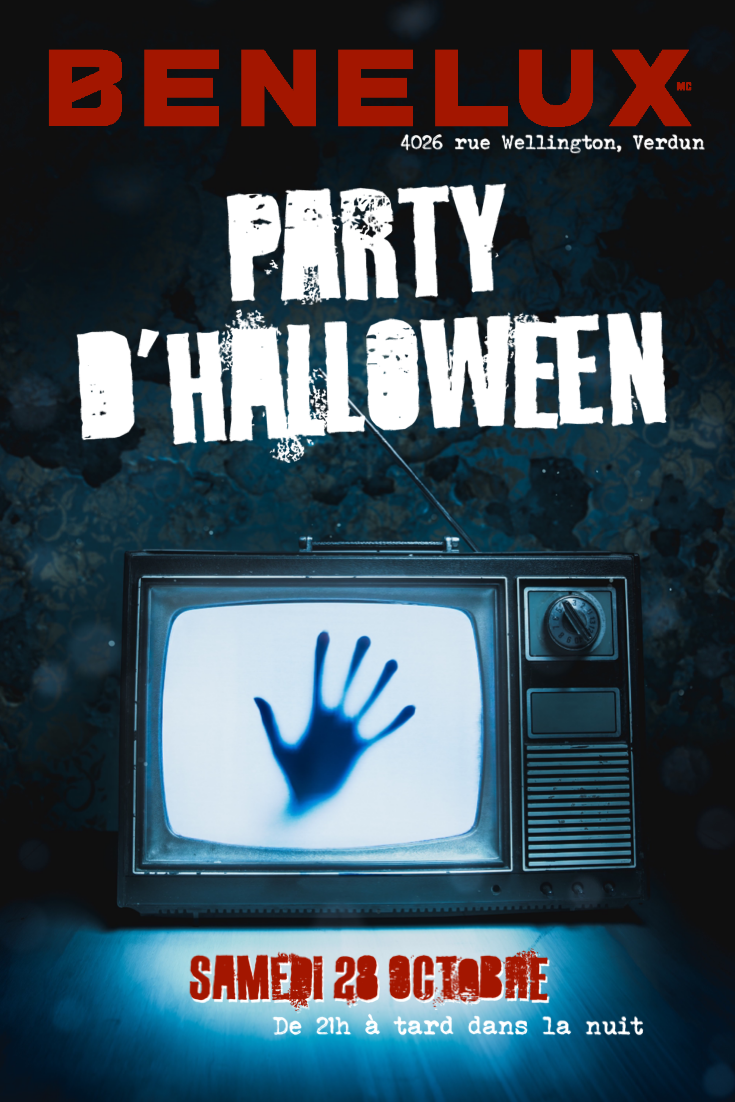 A Night at the Treflebury
Not a fan of horror? Le Trèfle in Verdun will disguise itself as a club from A Night at the Roxbury for a Halloween party with a 90s vibe. Get out your tight sweater, colorful jacket and little chain, and get wiggling on the tavern dance floor!
When: Saturday, October 28 octobre, from 10 pm
Where: 4718 Wellington St.
All aboard at Bar Social Verdun!
The Bar Social, meanwhile, is plunging into the world of swords, ships and wooden legs with a pirate-themed Halloween party on Saturday night.
Bring out your inner Blackbeard or Anne Bonny, prepare your captain's energy and come celebrate Halloween with the crew of Le Social!
When: Saturday, October 28, all night long
Where: Bar Social Verdun | 3819 Wellington St.
Tuesday, October 31
Drop Drag Gorgeous at Bar Social Verdun
The Queen of Verdun, Misty Waterfalls, will host Drop Drag Gorgeous on Halloween night at Bar Social Verdun! The host and her guests Aizysse Baga, Carmen Sutra and Rosa Golde await you in an extravagant Halloween party with a costume contest. Come dressed up, as there'll be a prize for the winner of the best costume!
When: Tuesday, October 31, from 8 pm to 10 pm
Where: Bar Social Verdun | 3819 Wellington St.
Immersive experience at Maltéhops
Maltéhops has a long-standing reputation when it comes to Halloween!
Big fans of this holiday, the team will be dressed up, with lots of decorations, a smoke machine, music from horror movies and candy for young and old alike. No age discrimination!
Trick-or-treating will start around 4 p.m. and end when the witch's cauldron is empty of its sugary entrails.
When: Tuesday, October 31, from 4 pm
Where: Maltehops | 4817 Wellington St.
So, is your costume ready?