CONTEST | The Pôle Well Advent Calendar
1 December au 25 December 2022
For a second year, you can rediscover your inner child thanks to the Pôle Well Advent Calendar! Muffin and Bobby, with the help of the merchants of the Well, have found 25 gift ideas to pamper you or your loved ones. Now that's something that is going to please young and old Verdun folks! The Pôle Well advent calendar contest is a gift offered by a merchant of the Well to be won every day until December 25th!
Only one registration is necessary: your name will remain in the bank for the duration of the contest.
It's easy to participate: SIGN UP HERE!
Each day, Muffin and Bobby will open a small door of the participating business. Visit us to discover new gift ideas every day!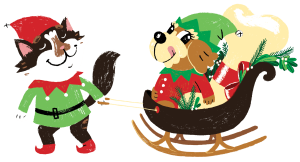 CONGRATULATIONS TO THE WINNERS:
December 1st: Maude S.-N.
December 2nd: Julia G.
December 3rd: Chantal F.
December 4th: Alexandre B.
December 5th: Line R.
December 6th: Danièle P.-D.
December 7th : Justin B.
December 8th: Denis D.
December 9th: Gisèle B.
December 10th : Eveline T.-F.
December 11th : Marie-Claude L.
December 12th : Francis T.
December 13th: Sandrine C.
December 14th: Kim B.
December 15th: Melissa B.
December 16th: Cristina Z.
December 17th : Josianne V.
December 18th : Karine L.
December 19th : Sophie G.
December 20th : Lauren S.
December 21st : Jessie C.-B.
December 22nd : Camille D.S-M.