As of June 1st 2021, and for the entire summer period, Promenade Wellington will become pedestrianized between Regina Street and 6th Avenue.
Come and enjoy the summer on the Well!
What's new :
9 work spaces with outdoor WIFI in association with Summer Islands Network.
Swings for relaxation
3 toilets at the corner of Wellington and De L'Église, including 1 for people with reduced mobility
Bicycle / pedestrian cohabitation (details below)
More accessibility for people with reduced mobility (details below)
And much more!
*Please note that the installation of the street will be done gradually from June 1st to mid-June.
Like last year, two major phases will mark the closure of the street. Phase 1, which consists of securing the street and putting in place all the signage. Phase 2 will focus on landscaping, greening, beautification and furniture for the terraces.
PARKING
Major signage will be placed on the cross streets to indicate the multiple parking lots available on the street's periphery (500 units):

Ethel Parking lot (Levels 5 and 6 are available free of charge), between Church and Hickson Streets (access from Ethel Street and pedestrian exit on Wellington Street),
Corner of 3rd Avenue and Wellington Street
Corner of Gordon and Wellington
Corner of Hickson and Ross Streets.

Notice the signage campaign around the street, it will guide you to the public parking lot on your way.
The IGA has a private parking lot to accommodate its customers via Willibrord. Approximately 40 spaces are available.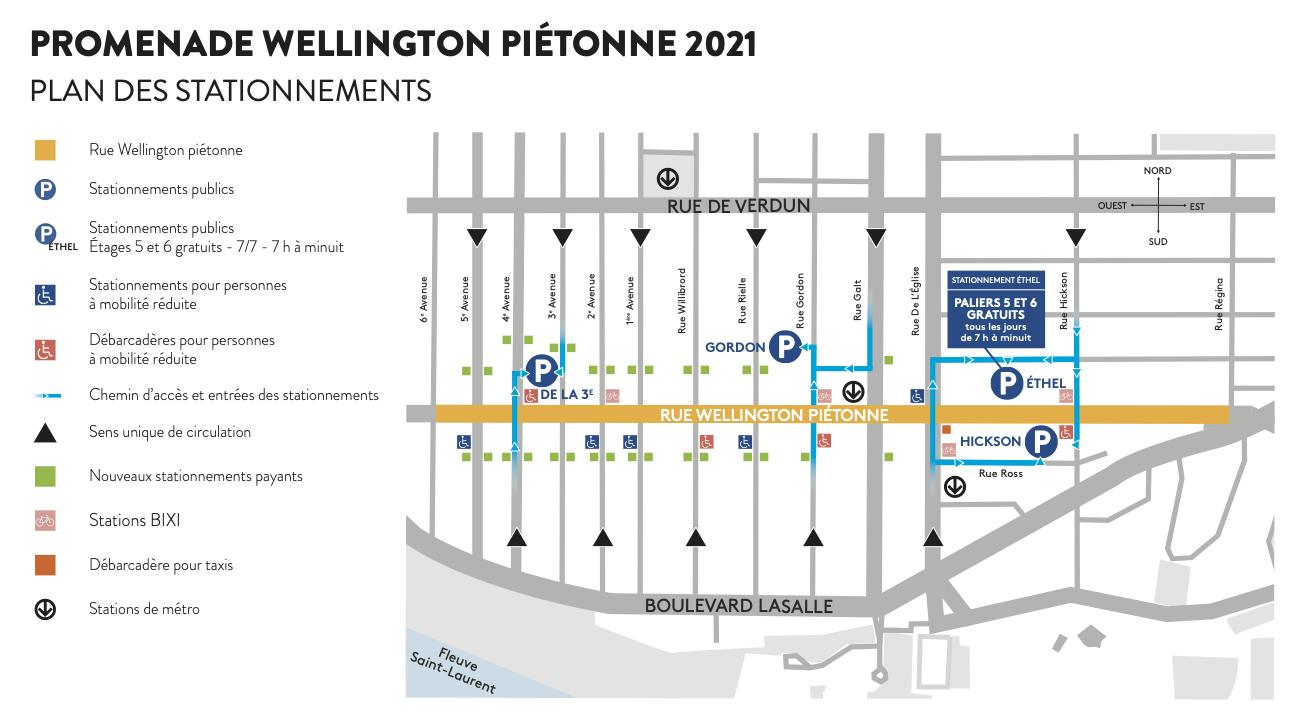 BUS AND METRO DETOUR
Please note that the 4 daytime routes (21, 58, 61 and 71) and 1 nighttime route (350) will be detoured on LaSalle Boulevard. You can go directly to Promenade Wellington via the De l'Église station (green line) Wellington exit.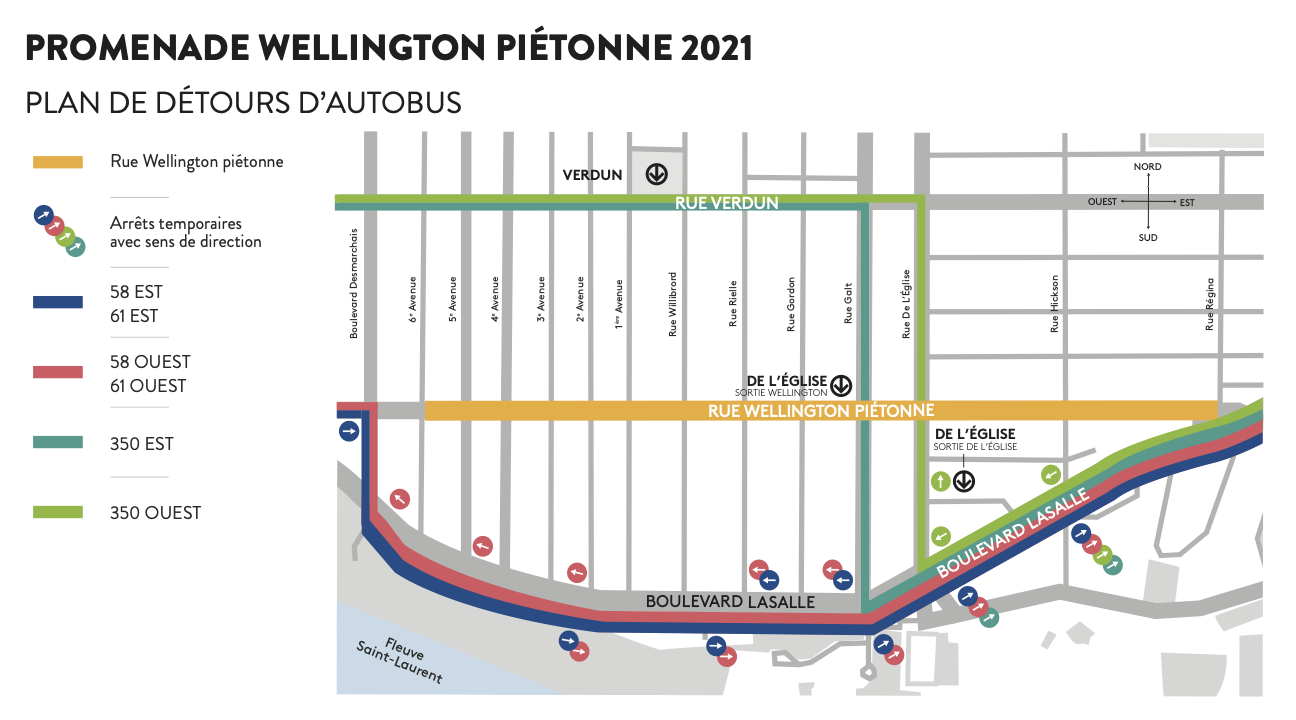 PEDESTRIAN / BICYCLE COHABITATION
This year, for this second edition, cyclists and their bicycles are invited on Wellington. This pilot project, set up thanks to the collaboration of the SPVM, the Verdun Borough, the Association pour la Mobilité Active de Verdun (AMAV) and Vélo Québec, will be in effect until the end of the pedestrianization period, EXCEPT if otherwise indicated.
And for this pedestrian/bike project to be a success and last all summer long, everyone needs to show good judgment and good citizenship.
Cyclists, here are the key elements for a good cohabitation on the Well :
Be civilized like on the bike path near the river shore, a pedestrian/bike cohabitation, it already exists in Verdun!
Obviously, the pedestrian street belongs to pedestrians and is not a traffic axis! This project aims to make life easier for citizens who want to come and do their shopping on the street by bike.
We adjust to the traffic on the street (just like on the highway!) – when the street is quiet, we drive at walking speed; when it's full or happy hour is in full swing, we disembark and walk alongside our ride.
Keep your distance – 2 meters minimum (pandemic obliges, whether you are on foot, bicycle or on horseback!)
Watch out for our children! – Children run and move. Be careful.
We are sure that if everyone follows these simple rules, things will go smoothly.
*Please note that surveillance will be deployed on the street throughout the month of June. 
We can't wait to see you!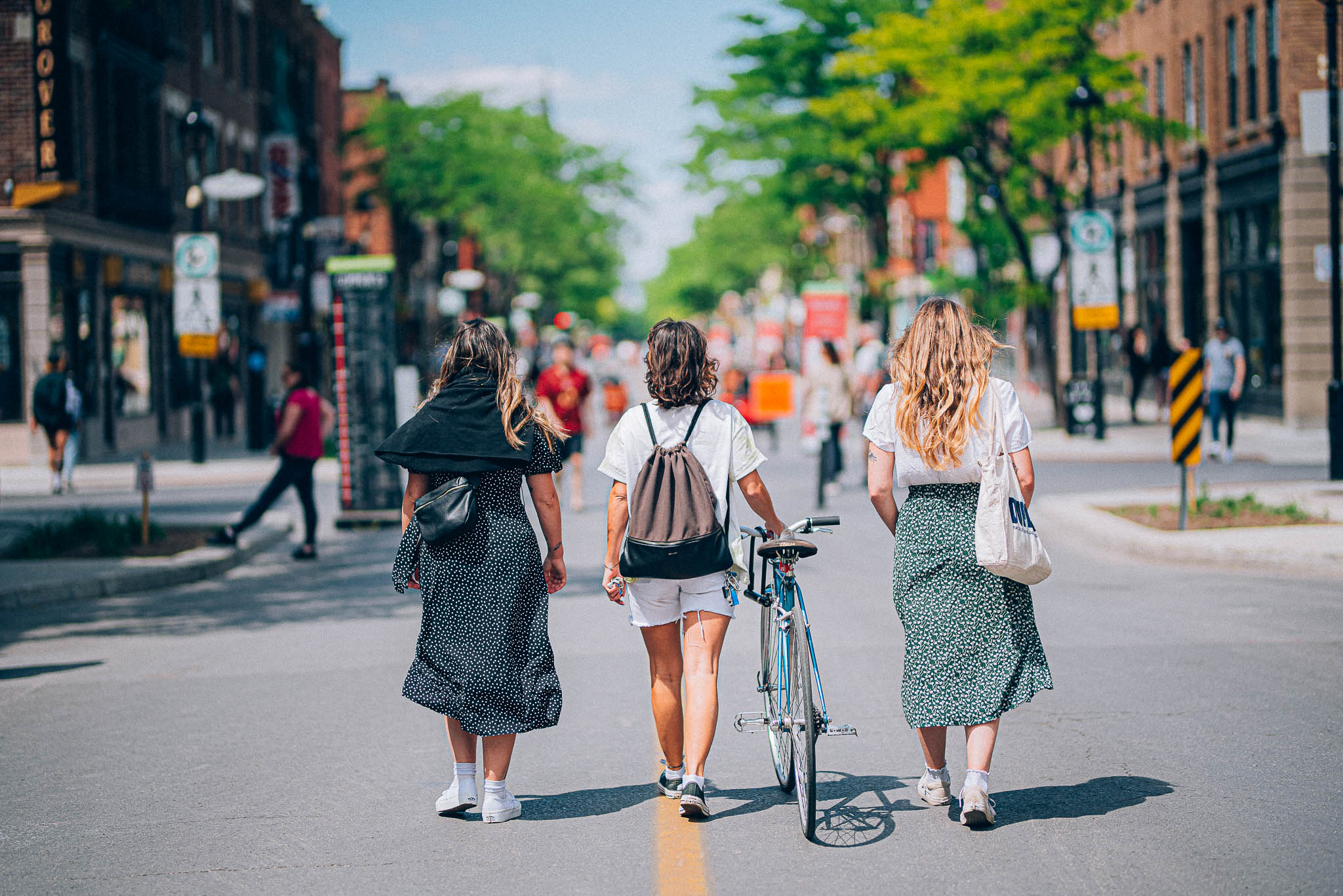 UNIVERSAL ACCESSIBILITY
In order to better respond to the needs of clients with reduced mobility, our team, supported by the opinions of people concerned by these issues and invested citizens, has put in place several initiatives:
Drop-offs: In addition to the existing handicap parking, drop-offs are being added along the pedestrian street (see parking map for locations),
Access ramps: Five access ramps will be added to long stretches of Promenade Wellington (see facility plan),
Relaxation areas: the street layout will include furniture adapted for people with reduced mobility,
Toilets: a toilet will be reserved for people with reduced mobility at the intersection of Wellington / De L'Église Street,
*You can locate them on the map using the international symbol of accessibility.
GENERAL QUESTIONS
When will Promenade Wellington become pedestrian-friendly?
Promenade Wellington will be fully pedestrianized between Regina Street and 6th Avenue from June 1st, 2021 until August 31 (temporary date).
Reopening date: In mid-July, a survey will be sent to all members to determine, by majority vote, a date for the reopening of the street. The official reopening date will be communicated in early August.
Why is Promenade Wellington becoming pedestrianized this summer?
Last year, the principle behind this decision was simple: the safety of the shopping environment is vital to the survival of our thoroughfares, for your safety and that of the merchants and to provide a safe and friendly space.
Through various surveys, the opinions of merchants and citizens of the district were collected. The responses were favourable and the 2021 edition will still be guided by the same principles: a safe shopping environment for consumers and a safe traffic environment for citizens, while allowing more space for the restaurateurs and merchants who need it. 
What are the planned facilities on Promenade Wellington?
Terrace and lounge areas will be set up at several locations along the street. They will welcome visitors who wish to store, work or relax while on Wellington.
Will there be accessible washrooms?
Yes, three toilets, including one for people with reduced mobility, will be installed at the corner of Wellington and De L'Église streets. (see the facility map).
In case of moving or other exceptional reasons (e.g. renovation work requiring the occupation of a public space, etc.), am I allowed to enter with a vehicle on the street?
Yes, but you must apply to the borough for a permit to occupy the public domain at least 2 days before the desired date. You must complete this form and send it to the following address : [email protected].
TERRACES AND EVENTS
When can the terraces reopen?
Following the Legault government's announcement on Tuesday, May 18 :
Restaurant patios will be allowed to reopen as of May 28
Restaurants will be authorized to receive customers indoors as juin 7*.
Terraces and bars will be allowed to reopen as of June 14*
*Depending on the evolution of the epidemiological situation 
Are there any events planned on the Wellington this summer?
Yes, a safe and sanitary summer program is under consideration for the summer period.
REMINDER OF HEALTH AND DISTANCING MEASURES
It's important to keep two meters of distance between you and merchants and other citizens. The sanitary corridors in front of some businesses are there to help you circulate safely.
It is important to refer to the measures of each business: reduced capacity, wash your hands with the disinfectant on the spot, avoid touching if you do not need it, respect the two meters, etc.
It is important to cough into your elbow.
Wearing a mask is strongly recommended when you are on the street, but it is mandatory in closed public places.
Wash your hands as soon as you get home.
If you have symptoms of cough or fever, have been in contact with someone who has COVID-19 or have just returned from a trip, we ask that you stay home and take care of yourself!
Thank you for contributing to the success of this summer project by continuing to care about the importance of buying local as you know so well.
WE CAN'T WAIT TO SEE YOU DEWORS ON THE WELL! 💙